The David Vaisey Trust is a registered charity which recognises and rewards, with a number of significant annual prizes, outstanding initiatives by public libraries in Gloucestershire – initiatives which importantly result in more people reading more books.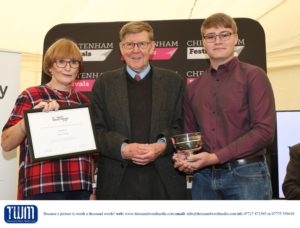 NOT LONG TO GO UNTIL THE 2019 DEADLINE FOR ENTRIES!

Gloucestershire library entries for the 2019 David Vaisey Prize must be submitted by email to the Administrator (full details at the bottom of the page) by Friday 10 May.

Click here for a link to application guidelines and a submission form. Further information for staff together with timelines for the year is available through another link here.


RECENT NEWS: Jilly Cooper praises 2018 David Vaisey Prize winners, Prestbury Library, click here for details of their 'Paws for Reading' project.

At Prestbury Library pupil Jonty sits for a story with Mitzy and helper Danielle Perry
For photographs, information about the Charity and queries, please contact Susan Emson, Administrator and Secretary to the Trustees: susanemson@gmail.com, telephone 01285 654591.