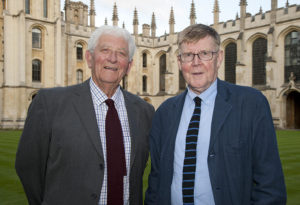 David Vaisey (left) with his great friend Alan Bennett
Born in 1935, David Vaisey was the son of a head gardener in Tetbury, he won scholarships to Rendcomb College, near Cirencester, and then to study Modern History at Exeter College, Oxford. He worked at the Bodleian Library in Oxford-the main library of the Univerity-from 1963, and in 1986 he was appointed Bodley's Librarian, the head of the library. On his retirement in 1996, he was given the title 'Bodley's Librarian Emeritus'. He wrote several books and was awarded the CBE.
As an undergraduate, he met the author Alan Bennett. They became lifetime friends, and Alan Bennett presented the first awards at The Times & The Sunday Times Cheltenham Literature Festival in 2017, commenting:
"Libraries are for all ages-it is how my reading began and how my friend David's did too. The David Vaisey Prize is well named celebrating as it does a life dedicated to libraries."
There's more on the man himself here, talking to Marianne Sweet.