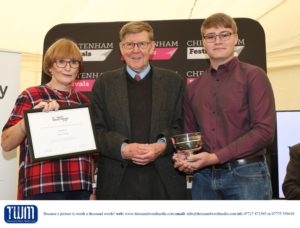 Twenty of the 39 libraries in Gloucestershire entered for the 2017 Prize. The winner of the £5,000 Prize was the community-run Bream library in the Forest of Dean, for its imaginative initiative to increase the number of children to visit the library. It runs a regular LEGO club where children build LEGO projects and gain inspiration from Lego books which they read to their parents.
The other shortlisted libraries were:
Brockworth (Community Library) which provides a range of events and activities for the young and older people.
Longlevens created a magical reading space with a focus on Roald Dahl, working with community groups.
Tuffley and Matson. Year 7 students visit Tuffley library weekly and the library team provide talks and support on whatever topic the students are working on. The library works closely with Gloucester Academy students to provide a safe place to spend time and encourage reading.
In presenting the 2017 Prize, Alan Bennett gave a short, inspirational speech which is available here. It's well worth a read!