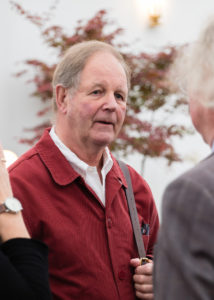 Sir Michael Morpurgo, who presented the 2018 Prize on Sunday 7 October at a special event hosted by The Times & The Sunday Times Cheltenham Literature Festival
Prestbury: Paws for Reading – Winner of the 2018 David Vaisey Prize
Paws for Reading is a partnership between Prestbury library, The Ridge Academy, and Cheltenham Animal Shelter.
This project targets children who are starting out in life hugely disadvantaged, with a whole range of emotional and educational needs. The judges all agreed that literacy is the prime springboard into the adult world, so we were keenly interested to see if this approach really could make a connection between animals, books, and the individual needs of those children.
The scheme is divided into two parts: the first taking place in the library, where the children are introduced to a rescue dog and then encouraged one by one to take their books to read to him or her. These children clearly had big difficulties with reading. They shuffled, they stumbled, some of them really didn't want to read, but something about the patience of the dog, made them try. There were also tables set up with organised activities, like wordplay games, run by volunteers, encouraging the children to laugh and have fun with the whole business of acquiring literacy skills. An important part of the visit was the ritual of choosing your very own library book and putting it on the pile to take away.
The second part of the project involves taking the children to the Cheltenham Animal Shelter. Here they meet domestic pets that have been neglected or abandoned. It was a joy to see a very closed off and unengaged child suddenly responding to a playful cat, cuddling a rabbit, or daring to stroke a dog.
The judges loved the fact that the book was shown to be an integral part of any environment and a universal tool for enjoyment, and enablement. There was an immaculately run session, and there was another quite chaotic session, with many volunteers helping, and the judges really felt how ambitious this project was.
Michael Morpurgo enthralled the audience with his story about a wooden unicorn and the role it played in enticing a little boy into a library to read. He said "It doesn't matter if children read to their dog or cat or a tree as long as they read. It is about making that leap from being read to when they are very small to want to read for themselves."
Pictured above, left to right , are Ali Mawle, Julie Spicer, Jo O'Dea, Laura Clarke, Sir Michael Morpurgo, Rachel Joyce and Jane Everiss
Click here for a list of all four libraries short-listed for the 2018 prize.